Performance That Pays
A cloud-based, HIPAA
compliant, symptom
evaluation and tracking tool that
allows provider-directed testing,
screening and at-home monitoring for
common medical conditions
clinicians face today.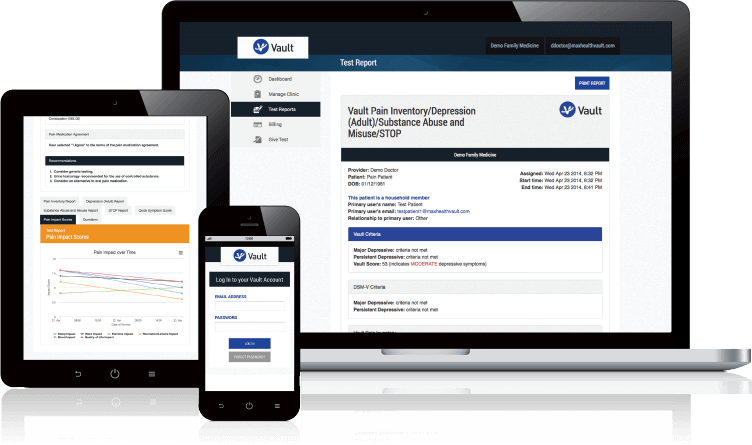 Adult
Reimbursable
Depression
Depression (PHQ-9)
ADHD*
Anxiety GAD
Anxiety Panel:
OCD
Panic
PTSD
Social & Performance Anxiety
GAD-7 with reflex Vault Anx. GAD
GAD-7 with reflex Vault Anx. Panel
AUDIT
Bipolar
Distress
Eating Disorders Panel
Insight Patient Profile
Substance Abuse and Misuse
Suicidal Thoughts or Plans*
Pediatric
Reimbursable
Depression
ADHD*
Pediatric Behavior Panel:
Anxiety GAD
Bipolar
Conduct Disorder
Disruptive Mood Dysregulation
Disorder
Intermittent Explosive Disorder
Oppositional Defiant Disorder
Suicidal Thoughts or Plans*
Screenings
Allergy
Allergy Symptom Score
Dieting History
Eating Behavior Panel
(UNFAT/FIT Index)
Exercise History
Fall Risk
Hereditary Cancer (Male and Female)
Hormone Symptom Inventory
(Male and Female)
Pain Inventory*
Prostate Impact Score (PIS)
Weight Loss Monitor
How Vault Works
Vault uses any web-enabled device (computer, tablet, smart phone) to gather your patients' data privately and communicate it to you and any other providers your patients designate.
Tests can be ordered in advance, on a schedule, or at the time of a patient's office visit using any web-enabled device.
Interactive reports show progress over time and are immediately available for viewing, printing or uploading to your EMR.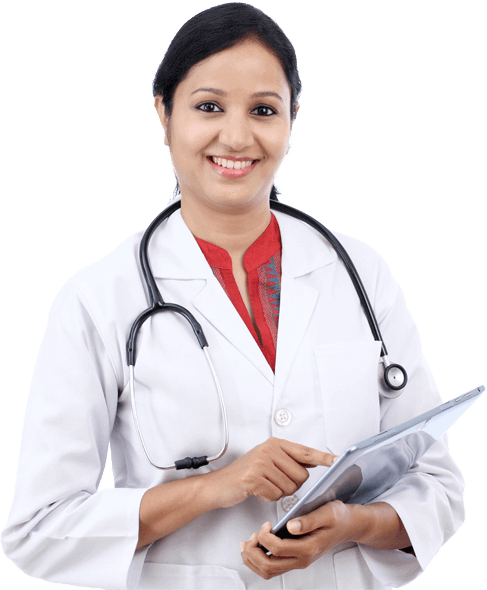 …studies have shown that primary care physicians fail to recognize up to 50% of depressed patients, purportedly because of
time constraints and
a lack of brief, sensitive, easy-to administer psychiatric screening instruments.
Accountable Care Organization 2013 Program Analysis, CMS, 2013
Getting Started
1

2

Learn How to Use Vault.  With account management support, you can quickly and easily incorporate Vault testing into your workflow by using our comprehensive implementation guide and Vault-U, our on-demand training library.  Are you already a Vault user? You can access Vault-U from the Vault dashboard by clicking on your email address.

3

Begin providing Vault testing and screening with ease in your office.
Transition to longitudinal care
Vault assists in the transition from episodic to longitudinal care. Depression test addresses ACO Quality Measures #18 and #40, and Vault helps meet NCQA requirement for PCMH mental health integration.
Monitor high impact patients
Interactive reports highlight key information providing clinical decision support and allowing easy identification of high-impact patients. Thoroughly track patient progress and report on care delivered to patients.
Screen for suicidal thoughts or plans and secure a contract for safety with embedded tests that are triggered, as needed, based on patient responses.
Automate compliance process
Vault automates the process to meet state medical boards' compliance guidelines for prescribing controlled substances for pain, anxiety, weight loss and ADHD.
Improve clinic workflow
Vault improves the clinic workflow and patient experience. Because Vault is cloud-based, testing can take place on any web-enabled device, wherever the internet is available–at home, in the clinic, anywhere.
Engage patients
Engage patients through technology to deliver better care. Patients are able to respond on their preferred technology and complete tests where they are most comfortable.
Integrate behavioral health
Meet Quality Measure #18 with validated Depression testing.
Quickly and routinely evaluate patients for conditions like depression and distress – the two strongest indicators of healthcare spend.
Collect data economically
Vault offers an economical way to collect patient health data without further burden to limited medical staff resources.
Vault is the only app utilizing TRUE (Test Response Utility Engine) software, minimizing testing time while maximizing the value of test results.
Risk-free revenue
Mental health assessments are reimbursable by most insurance companies and Medicare, using the 96138 CPT code. Vault does not require a contract, but instead bills per test beginning 30 days after the initial test, to allow for reimbursement. Only pay for the tests you use.
Capture revenue through test recommendations for ancillary services and consultations regarding results of Vault screenings, which are available at no charge.